Postcards
Postcards printing
The typography-lithography GRAFFIETTI offers high print quality for all your needs.
For the printing of postcards we are able to offer the best thanks to "sublimate", a new screening technology of home Agfa *, capable of increasing the quality of printing of postcards with a perfect control during printing.
This gives the images printed catalogs greater depth and tonal control never seen before.
NOTE: This is an automatic translation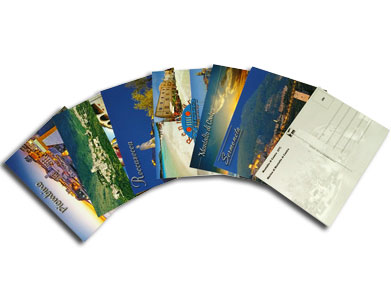 We can provide printing postcards in various types and sizes and in various types of processing (lamination, UV verniciture. Etc.) Ensuring to our customers any type of solution for the supply of postcards.
Standard sizes finished: 10 cm × 15, 11 × 16, 12 × 17, 11 × 23, 11 × 30.
Paper used: monolucida gr.300 color printing only 4 +1 (four on the front and one color on the back)
Minimum 10,000 copies
Treatments: gloss lamination, UV coating glossy, glossy UV coating to areas in cellophane packs of 100 pcs., Hot stamping or embossing.

leader in the field of photography and prepress
The birth of the postcards
The birth of the postcard from the second half of the nineteenth century, by an official of the Prussian Heinrich von Stephan asked.
The first cards had a white side where you could write your message, and one side printed with the image of the stamp.
Only in 1885, were born in Austria the first printed cards, when it was granted to private individuals the ability to print postcards.
In Italy in 1882 were printed postcards with views prepared by the painter Baldassare Surdi.
On 19 September 1895 the first postcard is printed with official printed illustrations, commemorating the twenty-fifth anniversary of the liberation of Rome.
Last step to get to the modern postcard was the introduction (in Britain in 1902), the "divider back", which divides, even today, the back of the card in two parts, one for the address and postage and the other for the message.
POSTCARDS The publishing house Fotoedizioni Madau has chosen the Graffietti Stampati for the supply of the postcards distributed in great part of Italy. Thanks to the new screening system Agfa Sublima the Graffietti Stampati has been able to give to the publishing house the best photographic quality, confirmed also from […]
Read More