Print catalogues
Catalogs printing
The catalogue printing process aims to produce an in print which contains the complete products list and its description.
Graffietti offers to all his customers an highly specialized service of catalogue printing.
The personalization, the detailed definition of merchandise profile, the fidelity regarding the corporate brand and style, allow to the catalogue printing process, activated by Graffietti, to become a precious allied into your global plan of marketing strategies and into all practice
of advertising promotion.
Buying a catalogue printing service from Graffietti you will increase your chances to win into your marketplace and to defeat your competitors, cause you will offer to your clients a very nice and accurate products' display.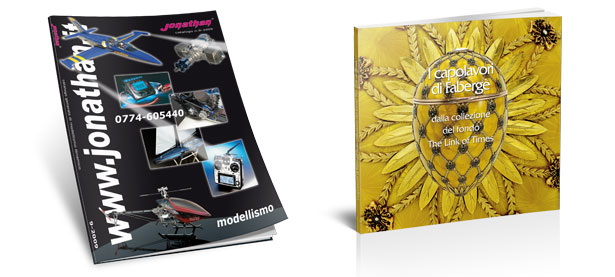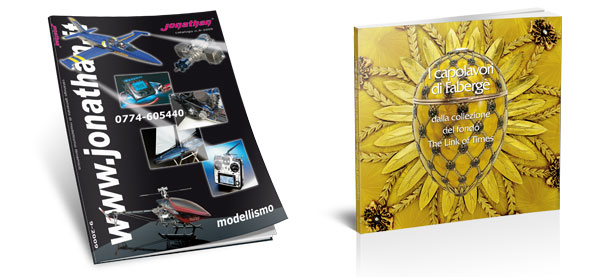 If you need an highly specialized company in the catalog printing process, you have found the right one! Graffietti Stampati offers affordable and accurate catalog printing services.
A catalog is an in print which contains the complete products list that a company offers to his targeted clients. Activate a catalogue printing service, however, also means to respect company's brand and style.
This is the added value which Graffietti Stampati gives to all his clients. Request now a quote for a catalog printing services! It's free and without obligation.
In the area of catalogue production, Graffietti Printing offers a complete service of design, prepress and printed matter. Putting at customer's disposal different formats and different printing systems and finishing, the catalogues production of our printing has won many awards and boasts a full customer satisfaction.
For the preparation, the Graffietti catalogues production uses two different systems, both elegant and accurate: the staple preparation and the paperback stitched with wire one. For the cover, instead, the catalogues production signed by Graffietti proposes shiny or matte laminates, shiny UV painting, shiny UV painting done by zone, cardboarded cover, single cellophane cover, hot printing or relief in dry-stone.
Ask your non-binding estimate, we are happy to offer you all the information you need about our. Get a quote and we will be happy to provide more detailed information about all of our catalogues production cycles.
Standard sizes finished: cm.10×20, 15×21, 16, 5×24, 21×29, 7, 23×33, 30×42.
Paper used: Glossy or matte minimum gr.80 or use hand cards or other type of natural papers and prestigious minimum gr.60
Minimum 1000 copies
Equipment with staple backs mm. 0 to 4 mm or with paperback stitched wire (with the back of a minimum of 3mm, 5 onwards)
Additional work to cover: glossy or matte lamination, glossy UV coating, glossy UV vernicitaura areas, hardcover, single cellophane, foil stamping or embossing.
THE UPPER AND LOWER CASE Sometimes it happens to be undecided on using the lower case and upper case. It helps to know that our eye perceives and stores more easily irregular and jagged shapes compared to the more linear and monotonic. For this reason the tiny results to be […]
Read More